19 Elegant Kitchen Cabinets
Troxel
This contemporary kitchen cabinet features sleek slab doors, dramatically contrasting finishes, and modern accents. These cabinets are perfect for integrating a fireplace that beautifully accentuates the room.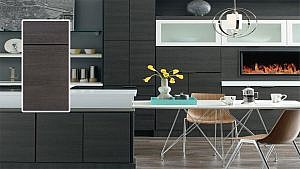 Caprice
Caprice is a beautifully crafted transitional style kitchen cabinet. It is sleek to look at and seriously ready to entertain.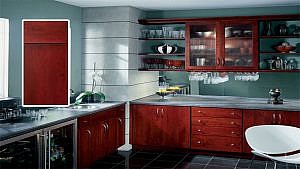 Cotter
This white painted kitchen cabinet is easy to live and easy to love. It offers a pleasing ambiance that guests are sure to gravitate to.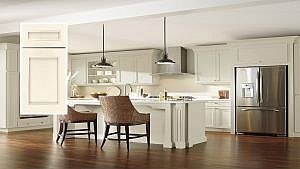 Caprice
If the contemporary design is your calling, you will love the sleek efficiency of these dark gray kitchen cabinets. It features slab doors paired with a finish, stainless steel appliances, and crisp white accents add a modern vibe that freshens your day.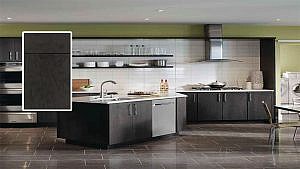 Northrope
Northrope presents a complementing combination of door styles and finishes that can create a space that is full of personalized style creativity.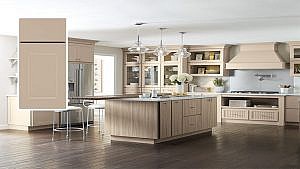 Dover Castle
Understated elegance with a modernity, Dover Castle features just enough detail to imply innate sophistication.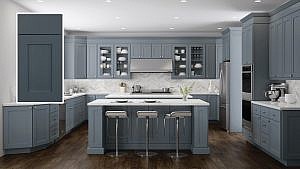 Kingston
While both warm and wonderful, Kingston presents classy kitchen cabinets. The soothing color combination complements the hardworking kitchen perimeter behind.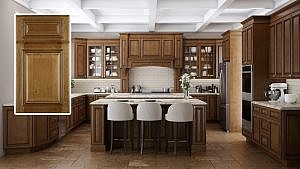 Georgetown
Nothing says more comfort like warm finish Georgetown kitchen cabinets. With an island that emulates a table filled with basket storage, these cabinets accentuate the kitchen's versatility.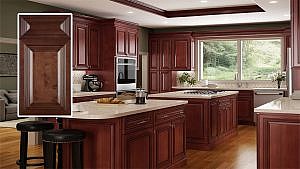 Essex Lunar
The dramatic finish on the dark grey cabinets of Essex Lunar creates a beautiful contrast to light flooring and paint colors in this spacious area.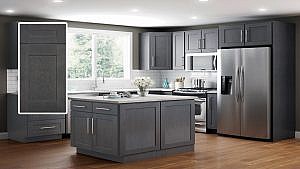 Wheaton
The off-white painted Wheaton kitchen cabinets in the rest of the room offer a pleasing environment. Everyone will enjoy the banquette, meant for seating dining or visiting with friends.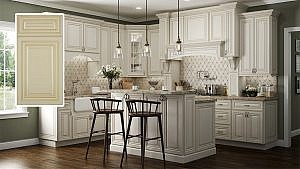 Trenton
Trenton Kitchen Cabinets: soft ivory paint for comfort and details that lean ever so slightly modern.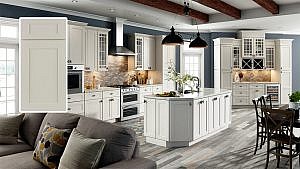 Yarmouth
With soft ivory paint, Yarmouth is a traditional kitchen cabinet that is nostalgic of sunny meadows.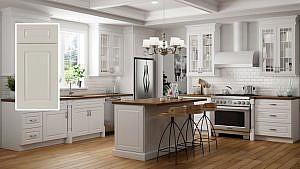 Branford
From the dark kitchen cabinets to impactful hardware, you can imagine the enjoyment when you prepare meals in this kitchen. What is not to like about this Branford kitchen cabinets?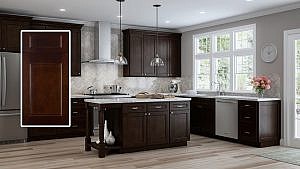 Amesbury Cherry
Amesbury Cherry provides a deep, lavish red stain. This kitchen cabinet gives a luxurious and high-end look to any kitchens.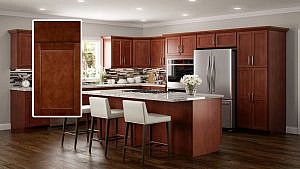 Plymouth White
This kitchen cabinet is elegantly simple and has a beautiful white paint on a traditional door design.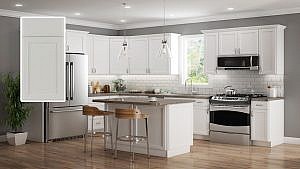 Quincy Espresso
The contemporary color on the traditional door style creates the ideal Quincy Espresso kitchen cabinets.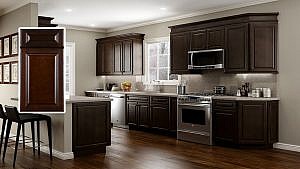 Royal Blue
A complementing combination of door styles and finishes can create a space that is full of personalized style creativity. Royal Blue forms a space in your kitchen that is both functional and beautiful.
Amesbury Golden
Amesbury Golden is emulating royalty with a clever use of texture and color. The addition of hearth details along with a contrasting island gives an overall look neatly together.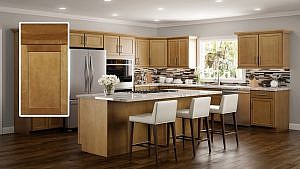 Related Blogs