2018 Flooring Trends
Introduction
Whether you are building or planning to remodel your home, you will need to consider several integral factors such as aesthetics and functionality when working with floors. The best part is that today, homeowners are presented with different designs that will satisfy their needs. Although the process of choosing can be exciting, many find it overwhelming. As a result, it is challenging in choosing a floor that looks trendy and that can withstand daily abuse from frictional wear and tear. If you find yourself stuck in the limbo, that is totally fine. We are here to help guide you through this strenuous process!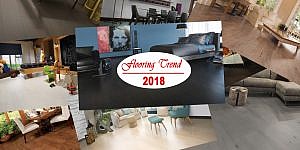 Color
Humans are visual beings, and the first thing that hits our eyes is color. Therefore, it only makes sense that color is the first thing homeowners look at when shopping for floor designs. In 2018, homeowners are going for floor colors that are on the extremes of the spectrum such as ultra-dark, ultra-light, and even a little bit of the hues found in between.
Although Gray flooring has been around for quite some time, this type of flooring is becoming increasingly popular with homeowners. It offers a clean look that offers uniqueness, especially to modern houses. Since gray is a neutral color, gray on flooring blends with just about anything and, as such, livens up any room.
You, however, have to be careful when choosing a flooring contractor when deciding to install gray flooring. The color is not the easiest to work with; choosing a guru in the field is critical. The last thing you want to happen with your remodeling or building project is to realize midway through that the contractor is subpar. On another note, make sure that your contractor brings samples with them so that you can see how the floor harmonizes with your house's natural light.

If you are looking for aesthetics rather than maintenance, dark floors are the best choice. You can optimize darkly stained floors visually by pairing them with light colored walls or cabinets. The color contrast heightens the interior beauty by giving the room an elegant and lavish feel.
Dark flooring, however, makes a room feel smaller and should be used in smaller rooms such as the kitchen. Additionally, care must be taken when dealing with dark floors because the tiniest of scratches will be visible from afar. Some of the darker tones that are trending among homeowners include espresso, Jacobean and dark walnut.
Homeowners are also moving away from warm tones on their floors and are instead opting for cool tones because of its visual versatility. The combination creates depth, an attribute that elevates the interiors of modern homes.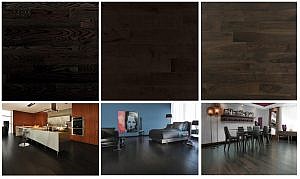 Light, natural and muted flooring
Although the popularity of dark floors is rising, homeowners and designers continually strive for lighter and more muted flooring. This can be attributed to the versatility that comes with light colored wood. When installed in confined spaces, natural colored floors create an illusion of expanding a space and are best for smaller spaces such as bathrooms. This is achieved by reflecting natural light thereby lightening up a room especially if the interior decor has a touch of white or whitewash.
Light or natural colored floors – especially on wood – complement an environmentally conscious homeowner. This occurs because there is little to no volatile organic compounds used to improve the appearance of the floors which means less chemical odors.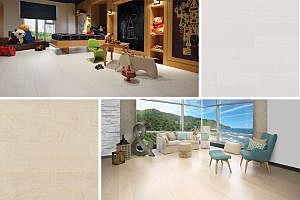 Style
In terms of styling, there is no limit to a homeowner's designing imagination. From wider planks to simple layouts, preference becomes the only limiting factor.
While wide plank flooring – especially in darker tones – is well suited for the traditional style home, they are slowly making their presence felt in contemporary style homes. This is also true for wide plank flooring in lighter color tones. If you are looking for floor style that will last for decades, then the wide plank floor is your best bet.
Even though wide plank flooring is not cheap, several benefits have made it a favorite flooring style in 2018. First, there are very few seams between the boards and therefore less interruption to the aesthetics which entail a balanced space with a harmonious feel. Second, wide plank flooring increases the value of a home because of the scarcity of wood planks that span several feet in width and length. Lastly, wider planks allow for easy sanding and refinishing, especially for remodeling projects.
Great care must, however, be taken if you decide to choose wider plank flooring. If there is water damage or gouged marks, you may have to replace the entire plank. This can become an expensive burden.

More homeowners, especially those that prefer a more authentic and natural look, are increasingly accepting the farmhouse floor design. Depending on taste, it is easy to decide the level of rustiness you want for your pace. You can achieve the farmhouse flooring style by using distressed wood planks. Reclaimed wood serves this purpose very well, and they are cheaper compared to other sources. The trend appears to be leaning towards wood that has stronger and more visible grains and knots. These features give the floor a truly natural appearance.
Do not feel restrained to the only reclaimed hardwood. Engineered hardwood, hand-scraped hardwood, or even natural hardwoods are all viable options you can use to create a farmhouse floor.

Not everyone loves a busy looking interior for their homes, and some homeowners today would rather opt for minimalism. Planks or tiles vary in size, shape, and direction which provides a clean and simple look.
The preference for simpler floor layouts such as single directional planks has been fuelled by homeowners' desire to experiment with patterns. For instance, using a bold geometric rug on a plain floor adds a wow-factor without necessarily making the space appear too busy.
Type & Finishes
Smooth sheens have traditionally been the standard type of finishes for floors. Not anymore. Flooring contractors are coming up with ingenious flooring finishes that appeal to the modern day homeowners.
Wire Brushed and Textured Floors
These types of finishes are considered the modern day version of rustic wood. Rather than concealing the grains and knots, wire brushing the wood enhances their appearance whereby giving the floor a more textured feel. Most importantly, wire brushed and textured floors are not exclusive to wood. 2018 ushers in porcelain wood grain tile that resembles textured wood in both appearance and in feel.
You do not have to worry about wear and tear as the brushing easily conceals any visible wear. For this reason, textured floors are low maintenance and are best for high traffic regions such as hallways.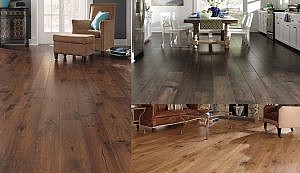 High grade and more environmentally friendly finishes
Homeowners are always on the lookout for floor finishes that are environmentally friendly.
Oiled floors have no volatile organic compounds that pose a risk to the dwellers which enables homeowners to be more environmentally conscientious. The most common oils used today are organic and include linseed or natural resins such as beeswax. Once applied, these oils penetrate deep into the wood and provides the floor long-lasting protection.
These environmentally friendly finishes, however, require painstaking maintenance. Ultimately, it is vital that you maintain a regular oiling routine.
Conclusion
Flooring has been and will continue to lean towards more natural and cooler colors as well as textures and oiled finishes. However, the versatility of these trends makes it possible for homeowners with varying tastes to achieve the look they want for their interiors. While some of these trends are only beginning to gain popularity, others have been around for quite some time. It is fair to conclude that most will remain in fashion for quite a while.
Related Blogs