Have Fun: The Most Creative Flooring Designs
Renovating your house or planning to move into a new house? Regardless of the scenario, the new buzz today is not just the paints and décor but style statement floor too.

Flooring doesn't always have to be boring. There are innumerable choices you have when it comes to picking up the correct flooring, be it the material, the pattern or the texture! If creating uniqueness is the concern, you can also do so just by organizing the floorboards differently or painting the floor with quirky colors. Sounds interesting, doesn't it?
Creative Examples
Let's check out some eye-catching flooring designs that you can experiment with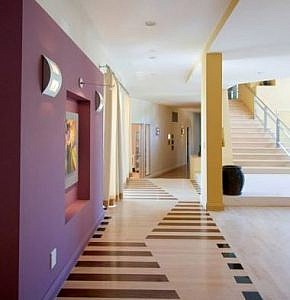 Like geometry? Well then, let's add some drama with small squares, rectangles or polygonal shapes. From different colored wood planks to various shapes incorporated planks with the main floor color will give an amazing contrast. If you really want to have fun, then, go ahead and create a jigsaw puzzle with various shapes and incorporate this style on your hallway floor. It's fun for the kids and adults too!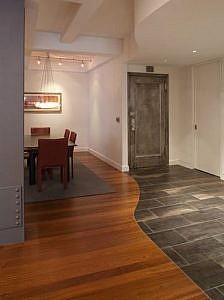 Imagine giving a two flooring look in the same room. Exciting? Isn't it? Add a few different wooden planks with the main floor and give the idea of separation between rooms. It's like having two floors at the cost of one! Go ahead and have fun creating this one. Layer the matt-finished teak wood blocks from the doorway of the room to the opposite end and polished maple wood planks for the rest of the room. More contrast means more texture and more visual appeal!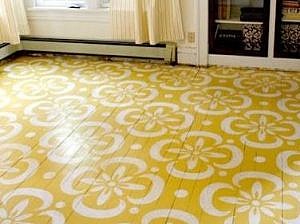 Have you ever faced optical illusion? Well, add that charm to your floor with graphics. From t-shirts to wall colors – graphic is a big trend these days. Why not take a step ahead and create your signature trend with textured floor paints! Take a bowl, stencils or any material which can add interesting outlines on the simple-looking floor. Let your creativity flow on the hardwood floors with vibrant colors and paintbrush. Add life to the plain floors with graphical designs like some curved lines, floral designs or symmetrical figures.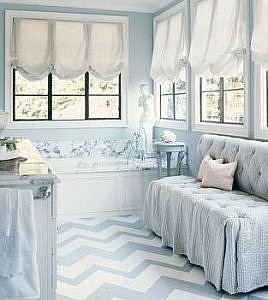 If the graphical interpretation is not really your choice, then go for a uniform painted floor with stripe, wave or chevron pattern. Imagine a zebra crossing or a wave pattern on the floor. So cool! The painted marble floors work great with any kind of furniture and room decor. Create a not-so-vibrant yet subtle contrast between the different colored tiles.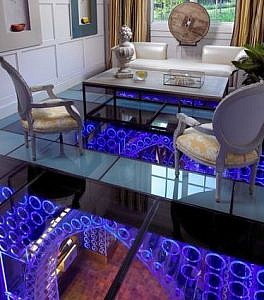 Have you ever thought of living in a glass house? Well, if yes, then let's begin with the glass flooring at least! A hardy and glossy glass floor work just the same as wooden or marble floors. Made with high-quality durable glass, you can add your quirky touch to it. From attain a class effect to the frosted one, glass is an element to have fun with! However, what matters most is what is beneath the floor – be it a swimming pool or a wine cellar, a library, garage or your under-house garden.
Make sure that the floor beneath gets enough natural light and you can also add a skylight over the glass floor. Those with vertigo will surely have a fun time if you add such glass floors at the staircase landing or just at the passage to the front door!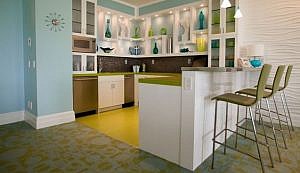 Are you in love with the 80's and 90's look? The funny it might sound, retro styles never get old regardless of whether you add vintage furniture or vintage wallpaper or even retro floor paint. It's the best way to add an element of fun to your flooring. From retro floor paints for the kitchen or a quirky retro look to the study because that is where you need to be most cheerful and composed. Imagine a Jackson inspired floor! Well, a vibrant color on the wood, marble or floor sheet will add boldness and contrast.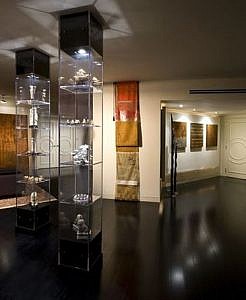 When you think of drama, you think of black! Sometimes, it's fun to add black to the floor provided you use the perfect skylights to go with it. Dark and intense, eh! With chic leather couches and wooden furniture, a contrasting colored rug laid sophisticatedly, you are all set to enthrall the guests at your dining room or lobby.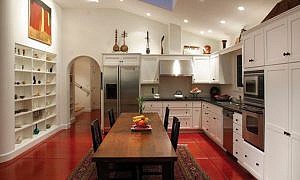 As a kid, did you ever color the floors red and walls cream or white? Well, turn your childhood vision to reality and add the fun elements with shades of red tiles on the floor. Bright red tiles for the floor can heighten up the vibrancy and liveliness of the room as well as your mind! If your room is relatively smaller, then go for oversized tiles to add some expansive feel. Red floor with the colorful fabrics and accessories is the perfect setup for fun loving people.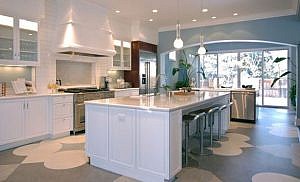 Well, if you are someone who wants to experiment with flooring and stick to your budget too, then your search stops here! Try out the linoleum tiles for the main entrance, staircase landing or the kitchen, and you will have so much fun designing them. They are available in all colors, patterns, and designs and are perfect for the flooring that you wanted. From light-colored linoleum tile design to add sobriety to oversized geometric or graphic designs on the tiles to add some drama, these tiles are picture-perfect!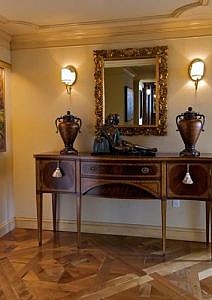 Stylish flooring as the name suggests will never prove you wrong, especially when you can install them with different patterns. Exciting, isn't it? Hardwood floors work wonder with every room and their charm is enriched if you add warm toned lamps or skylights in accordance with natural lights. Add to the fun quotient by adding these planks in a zigzag form!
Experiment with Traditional Tiles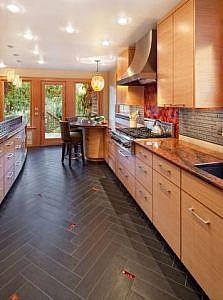 If you want to add fun and drama in between uniformly arranged traditional tiles, add some salvaged colorful woods or marbles or even gravels in between them in regular interval. With this splash of color amid the uniform coloration, even the traditional flooring can be stylish.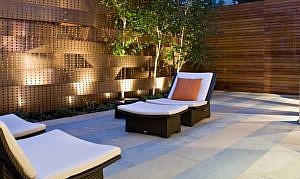 A simple stripe formation on the floor will never go wrong if you can add two contrasting colored tiles of wooden planks strategically. This type of flooring can look great not only for kitchens and bedrooms but also patios and balconies.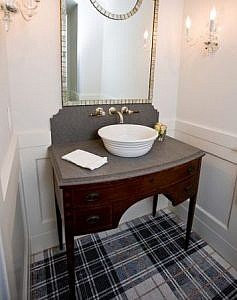 A plaid pattern with two or three contrasting colored tiles will give you an idea that the floor is made of plaid-patterned fabric! These type of floors are highly graphical and will offer an entirely new look to your dressing room or walk-in wardrobe room.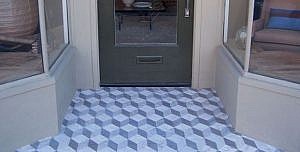 If you are out of budget for tiles or wooden flooring, there is always an option for going for paints on the floor. Faux tiles are attractive no doubt, so why not create your own type of faux tile design. There are many design ideas which you can use accordingly, but the 3-D designed ones and the rectangular wooden designs are really unique.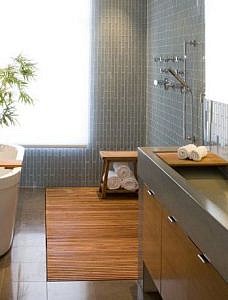 Teak wood flooring with matt finish will look classy and is quite strategic to use too, thanks to its durability and insulation. For living rooms and bedrooms, this flooring option adds sophistication and panache. You can also add a teak grate on the recessed floor of the washroom so that the drain is beneath the grate and the wood complements well with the glass and marble walls.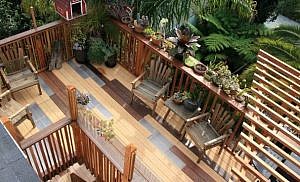 For the patio, you can arrange some salvaged woods in a vibrant pattern or add colorful mosaics to create your masterpiece. You can even add a few colored stone blocks alongside the monochromatic stones. Inserting white or colorful gravels in between wooden blocks or adding exposed bricks between woods can also add some drama.
Conclusion
Apart from all the above, you can also add optical illusion paints on the floors to add a playful ambiance or go for a world map like that of Game of Thrones! For kids' rooms, hopscotch designed floors or colorful marble blocks will work out great. It is up to you on how much creative you can be and your feet will always be happy to tread on the beautifully designed floors!
Related Blogs