Kitchen Remodeling Cost Details and Return on Investment
Introduction
Two important things that must be considered when renovating a home are the remodeling cost details and the potentials of the return on investment (ROI) of the home. Unfortunately, there is not one easy or straight answer to this because many factors can impact the cost and ROI, but it is still good to have an idea of the cost and the worth of your home improvement investment.
List of Return on Investment (ROI) for House Project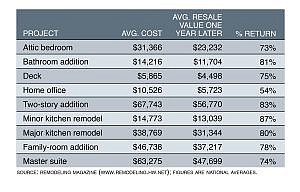 Source: Remodeling Magazine (www.remodeling.hw.net); Figures are the national average.
No. 1 ROI in House Project: Minor Kitchen Remodel
From the above list, we can see that "minor kitchen remodel" has 87% ROI after one year, which is the highest ROI in the house project list. A minor kitchen remodeling might be exactly what your kitchen needs to put it in a better shape for a high return on investment at the point of sale.
So, what can be considered as a Minor Kitchen Re-modeling?
A minor kitchen re-modeling normally includes new hardware and cabinet faces, appliances and flooring, and of course new countertops. This approach is usually required when a kitchen is well configured but technically out of date. For instance, in a dated but functional kitchen, you might want to replace the fronts of the cabinet boxes with new stylish drawer fronts and wood panels, and of course new hardware. You might also want to include updates such as stainless steel appliances, contemporary surface light fixtures, and fresh paint.
Minor Kitchen Remodeling Cost Breakdown
The cost implication of remodeling a kitchen is largely dependent on first, the size of the kitchen space, and second, the design decision. Generally, a homeowner can invest anything between $12,600 and $33,200 on re-modeling of their kitchen. According to HomeAdvisor, a minor kitchen re-modeling should cost an average of $21,000 but it can cost more or less. When putting your budget together, you need to be clear on how you will allocate the funds, including miscellaneous expenses in case of late changes in plan or an emergency. The National Kitchen and Bathroom Association has given a cost breakdown of kitchen re-modeling by percentage as highlighted below.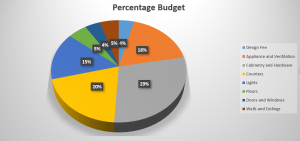 No. 4 ROI in House Project: Major Kitchen Remodel
According to the house project list above, we can also see "major kitchen remodel" has 80% ROI after one year, which ranks No.4 in terms of ROI in the list.
What can be considered a Major Kitchen Remodeling?
A major kitchen re-modeling may involve the replacement of all appliances, the renovation of kitchen cabinets, the countertops, the sink, the vents, and flooring. Major renovation such as this usually cost about six figures for a number of upscale kitchens. The size of the space and the choice of design will also determine the cost. For instance, a major kitchen remodeling may involve installing stone countertops with top of the line glass or ceramic tile backsplash, and top range under-mount sink with trendy faucets and a water filtration system. It might also include installing commercial grade cooktop and vent-hood, built-in refrigerator, built-in microwave unit, and wall oven. In addition to this, it might also include energy efficient range, dishwasher, custom lighting, ceiling, and installing tile or vinyl flooring.
Major Kitchen Re-modeling Cost Breakdown
A major kitchen remodeling project can cost anything between $25,000 and $100,000. As a matter of fact, it can cost more, depending on the space and design. In addition to space and design, there are some other factors that determine the cost of a major remodeling. Factors such as duration of the project, the location, the extent of demolition required, availability of existing units, and professionals fees, all add up to the total cost of carrying out a major kitchen remodeling. When it comes to setting your budget, it is recommended that you know how to allocate the fund. Based on the National Kitchen and Bathroom Association, the recommended kitchen re-modeling cost breakdown by percentage is as follow.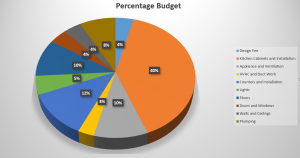 The First Step of your Kitchen Remodel: Design! Design! Design!
No matter you go for "Minor Kitchen Remodeling" or "Major Kitchen Remodeling", the design is the very important first step. Having an appropriate design will save you a lot of stress along the way. As a matter of fact, a good design plan should require more time than actual construction of the project. The following are a few tips for design:
Evaluate the existing Kitchen: Pay particular attention to the doorway of the kitchen because it can mess up your design. Buying a large fixture or extra-large refrigerator that can't go through the doorway is a big headache. You might want to develop a drawing of the whole kitchen putting the doorways, counters, walkways, kitchen height, etc. into consideration.
Consider the traffic patterns: This will prevent chaos and accident within the kitchen. Ideally, a minimum of 42-inch wide work aisles is recommended for a regular kitchen and a 48-inch wide for homes with many cooks.
Have Ergonomics in mind when designing: Consider all features that will make the kitchen easily accessible to everyone, such as adjustable counter heights, pull-out shelves or drawers in base cabinets, and wall oven instead of wide range.
Select all materials and fixtures before commencing the project: This will prevent delay in the course of the project.
Expect the Unexpected and plan for it: Things don't always go the way it is planned, so make allowances for the unexpected in terms of budget and timeline.
Conclusion
Kitchen remodeling is quite a complex process but doing it right significantly increase the return on investment at the end of the day. Getting the services of professional agencies will be of great help to you during the remodeling projects. At Cabinet & Floor Direct, we provide various high-quality kitchen cabinets, flooring, countertop, and tiles. Most importantly, if you visit our showroom at 1627 State Route 27, Edison, NJ, our kitchen designers can provide free consultation for your kitchen remodeling!  Interested? Please visit our showroom.
Related Blogs