How to Match Light in Kitchen
Over and beyond the wall paints and furniture in your kitchen, there is so much more you can do to enhance the aesthetic value of your kitchen. Lighting plays an important role in creating an appealing and attractive ambiance. When space is effectively illuminated, the color scheme will look more interesting, giving the residents and guests a more comfortable feel. Conversely, poor quality lighting will make the whole space look and feel uninviting and dreary. In this kitchen lighting guide, we will explore how you can match the lighting and décor of your kitchen to give the desired welcoming and inviting effect.
Light Basics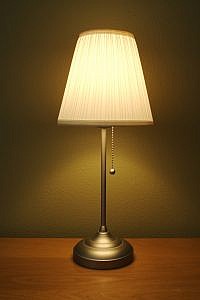 The first step is to understand the interaction between paint and light. When lights are placed at strategic angles, pointing to the wall, you will notice a sharp contrast in how the paint glitters, depending on the perspective of the light. This is as a result of the variations in the levels of illumination. An oblique angle of light will give off shadow effects while a direct display of incandescence of lighting heightens the colors.
When combined with room shades, you can use almost any kind of light for a section of a room or for the entire room. Understand that the angle of a light will determine the amount of wattage that will be seen in the room. However, with the use of shades, you can filter the light which invariably gives you total control. Look at shade as a great asset, especially if the light in the room is not the best. With shades, you can control the level of illumination that emanates from the light bulb to the entire room.
Why More Complex Light Management is needed in Kitchen?
 This is mainly because the room doesn't have a single focal point that can generate the lighting effect that is needed. There is a need for functional overhead lights that will be used for basic tasks. Besides, you need additional lighting in some areas like over the bar, the sink, or over the kitchen island. Equally important, you may need to have spotlights in these areas or you may settle for pendant lights. All of these factors lead to more complex lighting management in kitchen space.
Several Rule of Thumb for Kitchen Light

Rule of Thumb: Kitchen Cabinet Lighting
Overhead lighting is very important to the functionality of any kitchen but under cabinet lighting is also essential. Kitchen cabinet lighting refers to an assortment of light fixtures that are installed under the counter and underside of cabinets. Apart from functioning as workspace lighting, they are also great for aesthetic complements for your kitchen space. Kitchen cabinet lighting provides additional illumination, eliminates shadows, and also enhances the ambiance and design of the kitchen.
Rule of Thumb: Sink Light
Usually, one light should be installed in the direction of the sink area, and another towards the oven. There should also be another light that beams over the countertop for proper lighting effect in the kitchen. If you are planning to renovate your kitchen, it is recommended that you make an allowance for an effective use of natural light, in addition to the strategic installation of a light fixture. You can discuss this with the professional architect working with you on the home project.
Rule of Thumb: Task Lighting
Task Lighting is very essential in the kitchen and should be installed at the sink, over the cooking surface, over the kitchen table, over the counters, or any other work surface. The light fixtures need to be about thirty inches above the table, a peninsula, or an island. If you are very tall, or you are installing the light over a raised platform or over a cooktop, you might want to make it higher than the thirty inches.
Rule of Thumb: Recessed Lights
Recessed lights are light fixture installed in a hollow opening of a ceiling. The light beams downward and can either be a narrow spotlight or broad floodlight, depending on the type of light bulb used. These lights provide light to the whole room while acting as ambient lighting. Recessed lights should be installed about 24 to 42 inches apart for the best effect.
Best Kitchen Cabinets Lighting Tips and Tricks
Let us look at different kitchen cabinets lighting ideas, tips, and tricks that will help you create the appropriate lighting effect for your kitchen space.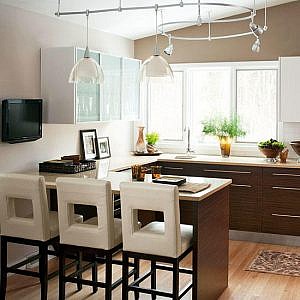 With a monorail lighting system, you can create a functional sculpture for your kitchen ceiling. You can shape the metal track into elegant curvatures to blend into your kitchen design. The functional sculpture can be mounted on ceilings that are not leveled or smooth. This is because it is suspended across the ceilings by a device known as standoffs. Most of the monorail systems operate on 12 to 24 volts which makes them low voltage devices.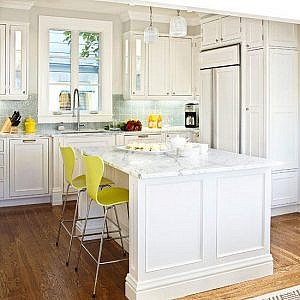 Normally, the size of a kitchen determines the number of fixtures that will be adequate for its illumination. However, colors also make a lot of difference. White replicates light and makes space look brighter. If there is a lot of white surfaces, you can reduce the number of bulbs wattage and fixtures, and still maintain a well-illuminated kitchen. White walls, white countertops, and reflective white ceiling generally enhance the illumination provided by pendant lamps in the kitchen.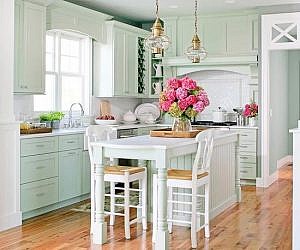 Pendant lights are designed to fill up the visual void that is above the peninsulas and islands while offering essential illumination to the workstation. They come in a wide variety of colors, styles, shapes, and sizes. These lights have the potential to add an extra layer of elegance to your kitchen space.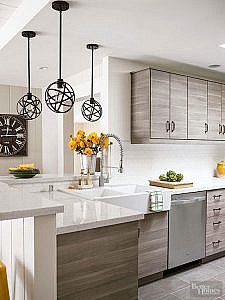 In case you are bored with the recessed can light and you would like to add classy pendants in your kitchen, try using recessed can converters. It is as easy as fastening in a piece of the light bulb. You will need a socket adapter and a cord spindle which will be plugged into the socket. You can get a cover plate to conceal the recessed can opening.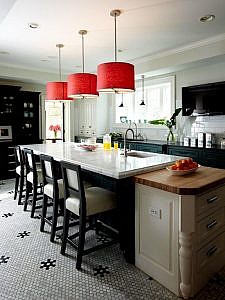 Some lighting effects in the kitchen are not necessarily functional. Installing a set of pendant lights with striking colored drum shades, for instance, will add a touch of personality and drama to your kitchen. Pendant lights are not as expensive as changing countertops and cabinets. Therefore, you can easily change them when you get tired of a particular color palette. Something as simple as changing the color of the drum shades of the pendant lights can make a significant difference in the look and feel of the kitchen.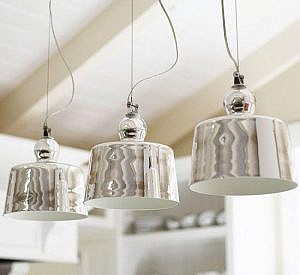 There is usually a standard height that you can hang pendant lamps but have varying effects, you can choose adjustable cable pendants that have center weight. You can suspend the pendant lamps from a track mounted transformer or a low voltage fixture in the ceiling. To raise the pendant, all you have to do is pull down the counterweight, and to lower it, just pull the lamp.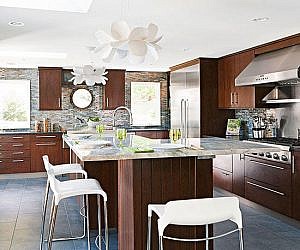 Dark surfaces require more light than light color and white surfaces. In fact, the darker the color, the more light sources you will need to brighten the whole space. You should, therefore, consider the surface of your kitchen before choosing the lights.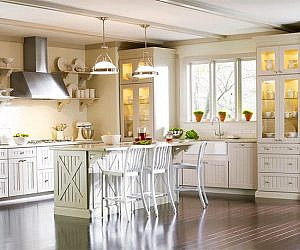 To create ambiance and warmth in the kitchen, combine different types of lights that can be managed individually. You can have pendant lights over the peninsula to provide the ambient light. You can supplement this with accent light under the cabinets, under the range hood, and inside glass front cabinets. The total effect will be a glowing look and feel instead of a glaring and harsh effect.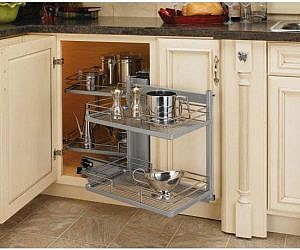 To provide light to the deep corner of kitchen cabinets, you might want to install a motion sensor or microswitch that activates the LED light or puck when the door opens and switches it off when it is closed. You can maximize your cabinets' space by investing in these lights.
Fluorescent Under-Cabinet Lighting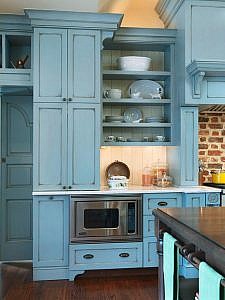 Fluorescent under-cabinet lighting provides more light across countertop for task lighting. Pay close attention the color of the light you choose because it can make a lot of difference in the scheme of things. Simple white bulbs, for instance, will give an unappealing look to your food. It will also have the same effect on the colors of your countertops and cabinetry. You should check a lighting store to see how dinnerware, fruits, and body skin look under different lights before you select the lighting for your kitchen.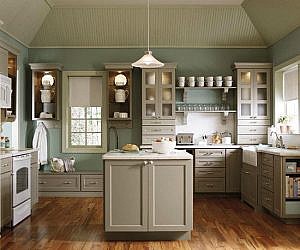 Bring your cabinetry wall to life with accent lighting. You can install strip lights, recessed mini cans, or linkable puck lights inside glass-front cabinets to enhance your collectibles. To minimize the use of energy, you should consider compact fluorescent light bulbs that would not be frequently turned on and off.
Bring Sparkle to Cabinetry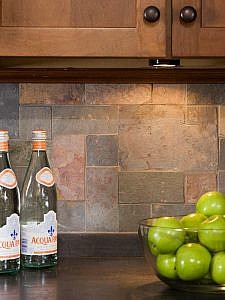 Recessed mini can or puck lights can bring shine to the interior and underneath of cabinets. You can consider the easy to install puck or recessed mini can light with LEDs instead of halogen or xenon bulbs. LEDs last longer and they consume minimal energy to generate light.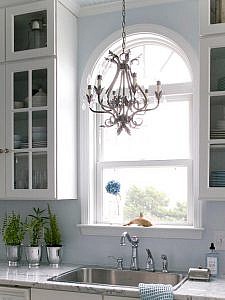 You don't have to restrict the use of chandeliers to the dining rooms; they are also great for kitchen lighting. With a simple background; white walls, bare window, and white cabinets, the beauty of chandelier in your kitchen will be well accentuated.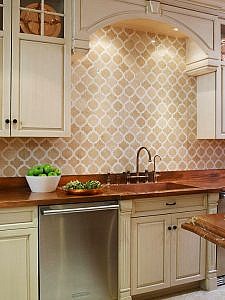 A hidden spotlight and recessed under-cabinet lighting add a touch of drama to the whole ensemble of over-the-sink design. You can create delicate mood lighting with accent tile and programmable LEDs. Adjust the intensity and color to create a specific mood, just like the lighting of a theatrical setting.
Conclusion
There is so much you can do with the lighting of your kitchen space. We have highlighted various considerations and given tips and tricks that you can use to accentuate the effects of the lighting. For perfect lighting effects, it is recommended that you seek professional advice when planning the lighting designs of your kitchen space.
Related Blogs