Spruce Up Your Kitchen Every Season
Introduction
Perfectly decorated kitchens with an elegant look bring positive vibration and make yourself feel important. You would not only want to spend time in cooking in your kitchen, but this can also be a place where you would often like to entertain guests and have a nice chat over a cup of coffee. Therefore, it becomes essential to invoke your creative spirit and give your kitchen a most impressive and attractive look.
It's up to you whether you want the décor of your kitchen to be constantly changing, based on seasons or month, or want it to remain largely consistent through the year. Whatever your choice, it should be well-considered.
Changing With The Seasons
If the kitchen is the hub of your house, why not let it resonate with the season outside. You can easily use decorative elements to bring the vibes of the season into your kitchen. Whether it is an object on your countertop or items on your shelf, they can all play a key role in boosting your kitchen's aesthetic appeal.
Let's explore the possibilities that different seasons present for the decoration of your kitchen.
Spring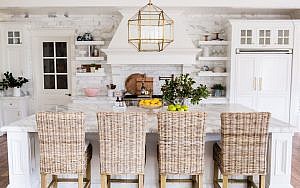 If it's the time of spring, then the theme should be of regeneration and freshness. Whether the food you are cooking is keeping up with the spring spirit is a different question. But try and bring in decorative objects that reflect the colors associated with this most pleasant season.
Brighten up your kitchen with some flowers of the season. Choose bright-colored drapes on windows that will also add to the illuminating effect. Use tablecloths and tumblers which are in keeping with the spring feeling.
Don't forget to bring colors, reminiscent of the spring, into your kitchen by painting your walls and cabinets with them. Combination of white and other light colors such as green really capture the freshness which is intrinsic to the feeling of spring.
Other great decorating items are fruits or their ersatz variety. Having baskets of these fruits which are bright in color placed on your countertop, table or anywhere else. Alongside these, have some flowers or plants, they too can be real or faux variety, to further bring the liveliness of spring into the cooking space.
Last, but not the least, try using some cutlery that matches the spring scheme, and place it on the shelves or hang them on the walls. They would be readily available for use plus, would add to the overall scheme of the kitchen.
Summer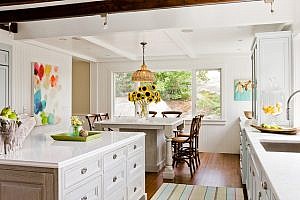 Summer represents warmth and brightness, but in a different way from spring. While the brightness of spring is pleasant and suggests a new and fresh beginning, the warmth of summer can range from pleasant to oppressive, depending on the region you are based in.
If you are the resident of a cold part of the country where summer is a season of comfort, then try and use the color white to enhance the season's appeal. Beautiful white cutlery can be of great help in this. It can be used as a decorative piece and not just something to be employed on visits of guests and family members.
However, if you live in a warmer climate and seek relief from draining heat, then the primary aim of kitchen decoration should be to bring a feeling of coolness. Choosing colors which are both pleasant and carry a soothing feeling is essential. Also, try and lessen the amount of sunlight that enters the kitchen by installing dark colored drapes. Also, have bulbs which are not too bright.
All these elements will create a cooler surrounding that would be comforting. Two other elements that also need to be added to the whole set up for the summer theme are cleanliness and greenery. Having some nice plants with dense foliage would bring the kind of shadiness that pleases the eye.
Fall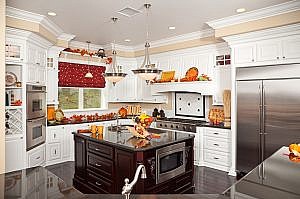 Fall is a season associated with withering away but it also has its unique charm. To bring the feel of the fall into your kitchen, try some unique decorations. Have fall leaves as part of the decoration and you can place them on your countertops, tables or the shelves.
Pair these leaves with some other plants that are closely associated with this season. You can use vases or trays or any other container that is both elegant and nicely complements the leaves. Along with them, pumpkins are another popular symbol associated with the season.
Having tablecloths and napkins depicting the scenes of fall are great accessories. These accessories can be placed beside the basin or on the countertop in the way that draws attention.
As far as the colors to be utilized in this season, they should be the ones which correspond to the colors of the leaves, plants, and pumpkins you have employed. Orange is the one that is most prominent but you can go for slightly brighter shades too.
Winter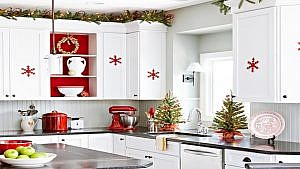 The kitchen becomes a happy hunting ground for families, even more so, in winters with a hot cup of coffee or hot chocolate being in demand. Winter is also, generally, associated with warm colors. Hence, if you are someone who likes darker shades, then, this is the season to try it out.
Black, being the prominent dark color, is a great option this season but only when paired with some other nice shades also. Red is an equally good option and provides that sense of warmth that is so appealing in winter. Combinations of red and black are a great option. So are some other colors like orange and violet. Don't forget that this is also the season of the festival and the atmosphere of your kitchen must reflect that. Incorporate the goodies associated with the festive season in your decorations.
Elements similar to Christmas trees and candles can be a valuable addition to any part of the house including kitchen. But there should also be a good collection of food items to gladden the hearts of every visitor to this part of the house. After all, what is a good holiday season without a great deal of eating and drinking?
Have some nice bottles of wine on the mantle pieces. You don't have to open them all this season but just having them there would add a nice touch. Chocolates can also enliven the mood of everyone. A couple of cookie jars with freshly baked stuff would whet the appetite of anyone.
Objects of Decoration

Lights
Lights provide the ambiance you are looking for. Be bold and choose those lights which boost the theme of your decoration.
Plants & Herbs
Having some plants, especially herbs which can be used in cooking, is a great addition to your kitchen as it both provides a good look as well as present a great ambiance for having a meal in.
Paintings & Arts
The walls of the kitchen are not meant only for painting but can also serve as the background for some nice food-related art. Paintings of fruits or other types of foods are a great option. So, are other themes associated with eating. Even non-food items but those that sync with the theme of your kitchen or the seasonal vibe you are looking to create can be a great option.
Apart from paintings, you can also choose to hang art pieces that are food-centric. Nice photographs have their own charm. Lot of people opt to have menu style boards in the kitchen, similar to what you find in fancy restaurants.
If you are attracted to a particular part of the world, you can have wallpapers with landmarks of that region in your kitchen. The idea behind all such art pieces remains uplifting your spirit so that you can enjoy your food.
Cutlery & Food Containers
These items are not considered art-pieces but they can act as such. If you have racks in the kitchen above the countertop, place those cutlery pieces or containers which add to the aesthetic appeal of the kitchen.
You can even create counters for tea or coffee by placing jars with the required ingredients in one place and labeling them. This would be both practical and impressive. Guests would be able to easily figure out where the essential items are and they can proceed with making a drink for themselves.
Additional Elements of Decoration
One must also ensure that a kitchen has certain consistent elements of decoration that don't change with seasons. This could include empty vases on table-top, knife sets, pans on the wall and some evergreen plants.
These elements can be both useful as well as simply appealing. While decorating your kitchen, do remember that this is where you would often be eating, to create an ambiance which allows you to feel comfortable and relaxed.
Don't be shy from experimenting either. You can try out different concepts for a while and see whether they are in keeping with your expectations. After all, this is your kitchen and what makes you happy is the most appropriate for this place.
Related Blogs