Traditional Kitchen Cabinets that bring Graceful Look to your House
Traditional kitchen cabinets have never gone out of style. Moreover, the traditional kitchen cabinets designs are also changing and the styles are becoming more modernized. Apart from the aesthetic value of your kitchen cabinets, it has to be very functional. If you are contemplating the traditional kind of cabinets, you have to be ready to exert yourself in terms of coming up with designs, wood options, hardware options, and color options.  In this guide, we have highlighted some traditional kitchen cabinets inspirations to get you started on your traditional styles of kitchen redesign. Below are some ideas that will transform your kitchen cabinets into the stunning traditional style cabinets, you so much love.
What are Traditional Kitchen Cabinet Styles?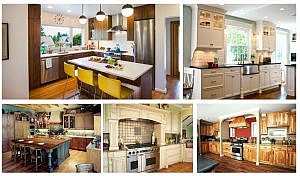 There are various traditional kitchen cabinet styles that you can explore. Here, we look at five different styles you can consider to give your kitchen a nice makeover.
Mid-Century Modern Kitchen Cabinets
The mid-century modern kitchen cabinets feature the throwback design style associated with the mid-20th-century creations. It is a blend of traditional and contemporary design with functionality being the core theme of the design. Mid-century modern cabinets highlight the organic and natural aesthetics value of a kitchen interior with the updated appliances, and finishes. Wood cabinets blended with white countertops are the true definition of what a mid-century kitchen design is all about. Of course, a warmer hardwood tone makes it more inviting and cozy.
The rustic kitchen cabinets are inspired by organic, antiquated textures, forms, and colors, with a special focus on country cottage design. Rustic kitchen cabinets is all about effortless appeal, functionality, a blend of resilience spirit and a more sophisticated approach to countryside living. Highlighted by earthy materials and tones exhumed straight from nature, the rustic kitchen cabinets implement elegant design while incorporating rural look and feel.
French Country Kitchen Cabinets
French country décor is generally meant to stir up a feel of classical European style. Kitchen cabinets designed for a French country kitchen setting will feature lighter colored hardwood with distinct grains, to create a warm ambiance without overwhelming every other kitchen décor. You might also consider antique or distress wood finish for more genuine-looking country home. Another option is to paint the cabinets in beige or muted tones of cream. French country kitchen cabinets will usually feature grooved facings or intricately carved scrolls or moldings to imitate the Louis XIV design look and feel.
Shabby Chic Kitchen Cabinets
Shabby chic kitchen design allows you to ditch the mundane and boring kitchen cabinets design for designs that inspire and intrigue. The distressed finish is very popular with this type of kitchen cabinets. The shaker-style and traditional cabinets will also fit perfectly in the shabby chic definition. The shabby chic kitchen cabinets also blend well with country and farmhouse kitchens inspired open shelves. All these give a feel of authenticity and style that effortlessly absorbs vibrant kitchenware that fit perfectly into the true meaning of shabby chic kitchen.
Farmhouse Kitchen Cabinets
The farmhouse kitchen cabinet can be very elegant and stylish. When it comes to giving your kitchen that farmhouse look and feel, the kitchen cabinets are the major points of highlight. Farmhouse kitchen cabinets are usually simple with fluted corners and heavy molding. Painting the cabinets white will go a long way to accentuate the farmhouse-style mood.
Detailed Traditional Kitchen Cabinet Designs for Single House in New Jersey
Now, based on the above five traditional kitchen cabinet styles, let's go deeper to take a look at several detailed traditional kitchen cabinets designs for Single Houses in New Jersey:
Light Rustic Off-White Farmhouse Kitchen Cabinets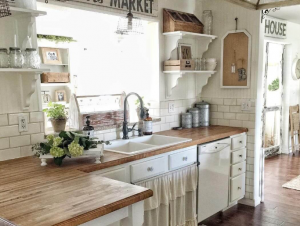 This is the perfect cabinets design for a small kitchen. The light rustic off-white farmhouse kitchen cabinets add a touch of warmth and cozy style to the interior of your kitchen. It features simple but classic clean white cabinets with a white sink that make your small kitchen look bigger than it actually is. You can have a burnished silver drawer and butcher block countertops to give the whole setting an amazing rustic elegance.
Grey Scale Shiplap Cabinets with Rustic Vibes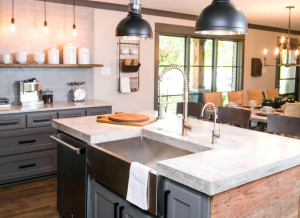 If you are looking for a combination of industrial and modern styled kitchen cabinets, this is the perfect choice for you. The grey scale kitchen cabinet features clean and stunning straight lines that give off a look of modern finesse. However, the usage of the industrial lighting and shiplap make the whole ensemble give your kitchen a look and feel of an industrial farmhouse. The stainless steel hardware and open shelves add a touch of class to the kitchen setting.
Vintage Victorian Farmhouse Kitchen Cabinets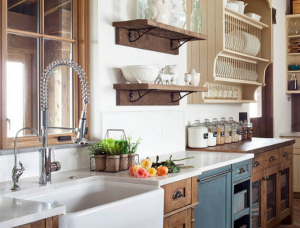 The Vintage Victorian style kitchen comes with stunning finished hardwood cabinets and a gigantic sink. To enhance the Vintage Victorian look, a touch of a bright blue section on the cabinet and a raised countertop below the dish rack that is styled in a farmhouse design adds depth and authenticity to the cabinet. Crown the cabinet with stylish white stone countertops to give the kitchen space a clean, fresh, and sophisticated look.
Modern Farmhouse Light Grey Cabinets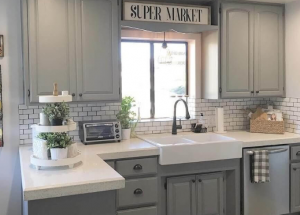 These cabinets offer a seamless blend of modern details and classic farmhouse look and feel. The modern farmhouse light grey cabinets are designed with the traditional farmhouse composition in mind. The slight difference between the modern farmhouse cabinets and the traditional farmhouse cabinets is that the modern version is painted grey and come with subway tile backsplash and white stone countertops which make the whole ambiance look fresh and stylish.
High Contrast Kitchen Cabinets with Black Accents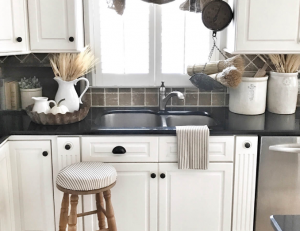 If you are looking for a farmhouse styled cabinets with a contemporary twist, the high contrast kitchen cabinets with black accents are the top choice for you. They are both functional and stunning. No doubt, white cabinets usually give off a feeling of airy and large space and with accents pop and black countertops, your kitchen can be transformed into a more modern space. The black countertops also help to disguise any discolorations or stains in the kitchen.
Distressed Light Farmhouse Kitchen Cabinets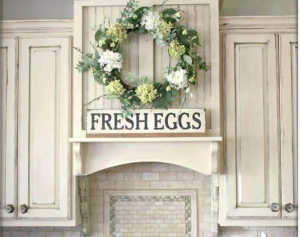 The perfect shabby chic, sophisticated kitchen can be achieved with distressed, dark wood lower cabinets and light colored kitchen cabinets. Cabinet pulls and traditional drawer blend perfectly well, and with the marble countertops that have dark and light browns flecks, you can have a beautiful and stylish kitchen appeal that you love.
Farmhouse Style Cabinets with 70s Color Twist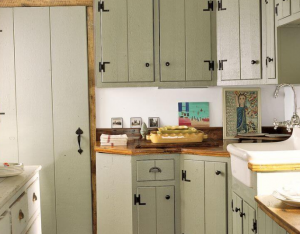 This cabinet design comes with a stylish handmade khaki paint job and stunning vintage heavy metal inflections that give your kitchen a look and feel of aged and cozy. To finish up the whole makeover, add beautiful vintage porcelain sinks which heighten the sophistication of the kitchen. The vintage porcelain sink comes with its own special feel of age and coupled with classy elegant butcher block countertops, you can have an inviting and warm kitchen space.
Tuscan and Modern Blended Kitchen Cabinets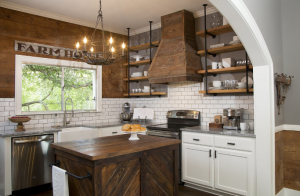 Combine white cabinets and top class wooden focal points, and then you have the beautifully modern and balanced Tuscan kitchen style. Smooth lines and spanking new white paint with lustrous cabinet pulls and simple drawer enhances the dark wooden cabinets. The blend of the upper cabinets with unique industrial inflections creates a focal point between the modern and Tuscan design to give a simple but elegant kitchen.
Grayscale and White Cabinets with Black Accents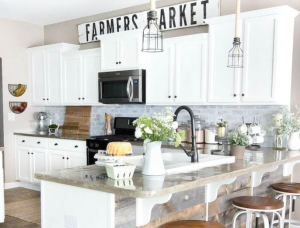 If you want to create an illusion of a large space in your kitchen, the grayscale and white cabinets with black accents will do the job. Light grey and high polish backlash with light stone countertops will definitely enhance the illusion. To round up the sophisticated look and feel, add floor tiles, grey tinted shiplap on the surface of your breakfast bar, and darker drawer pulls to create the depth of space you want.
Mint Classic Style Kitchen Cabinets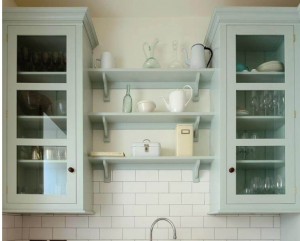 Get the traditional French country kitchen look with the farmhouse cabinets that feature copper accents and clean smooth lines. The mint colored paint job and delicate glass-faced upper cabinets give the whole ambiance a delightful and refreshing look. You can highlight the design with wooden countertops and copper accessories to enhance the farmhouse setting.
Paneled Cabinet with White and Black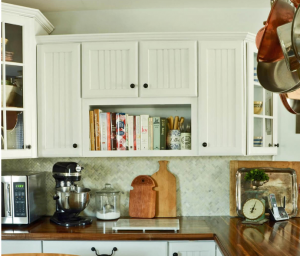 The bead-board kitchen cabinets are versatile and striking. They are generally associated with cottages but they have the potentials to add style and warm charm to your kitchen. The inclusion of stylish glass faced dish storage space and an open-faced shelf storage gives the kitchen space a unique farmhouse style.
Open-Face White Paneled Kitchen Cabinets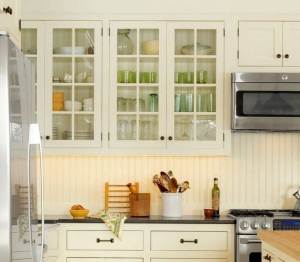 The modern kitchen cabinets with bead-board backsplash and open-faced upper cabinets give off a look of a clean, open, and airy kitchen. The delicate glass-faced kitchen cabinets and upper cabinets are positioned strategically to show glassware. The lower closed cabinets also provide hidden storage space for your kitchen hardware.
White Farmhouse Cabinets with Gold Hardware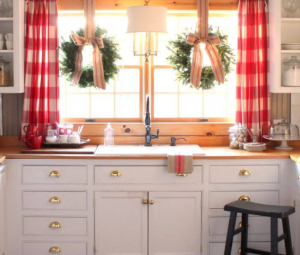 This design is not very common, especially with the brightly polished and stunning accents on the white cabinets. These kitchen cabinets comprise of clean and elegant open-faced upper cabinets and beautiful white lower cabinets. The bright gold inflections on the lower set enhance the beauty of the cabinets while the absence of inflections on the upper cabinets subdues the sheen, and prevent it from being distracting.
Rustic and Modern Cabinets with Farmhouse Flair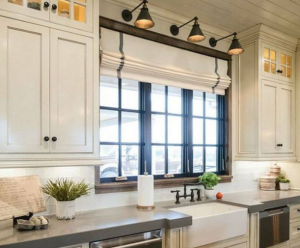 These stylish and stunning farmhouse kitchen cabinets are framed in an oversized contemporary kitchen window with roman shades. Deep porcelain sink and light cabinets both fit perfectly with the sleek grey countertops, stainless steel appliances, and dark metal accents that blend the modern and traditional elements.
Contrast Cabinets with Raw Wood and White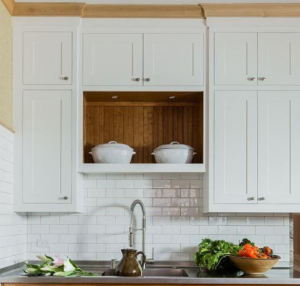 The contrast cabinets with raw wood and white features lower cabinets made of raw wood and white upper cabinets that fade into the backsplash to reflect the bright light from windows and fixture. This blend brings warmth into the kitchen space. The cabinets are complemented with an open shelf at the upper cabinets and raw wood bead-board backing and crown molding framing the upper cabinets. Each element is positioned to complement one another in a stylish and stunning kitchen setting.
Khaki Tan Modern Farmhouse Cabinets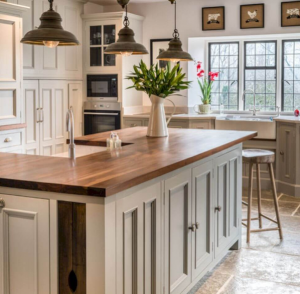 If you are looking for style and storage space, these cabinets are the perfect choice for you. These are traditional farmhouse cabinets that are surrounded by an oversized kitchen complete with second sink and a meal preparation area. The touch of class on these cabinets come with the khaki painting works which gives a warm feel space without sacrificing the airy and light features that the light colored cabinet offer. Farmhouse décor and wooden countertops completely close this classic look together.
White Paneling Open-Face Farmhouse Cabinets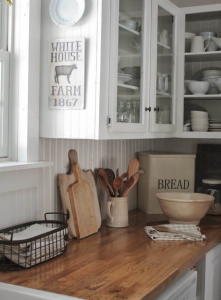 These beautiful white cabinets and the exquisite white wall is highly functional in a small kitchen. The light colors strongly reflect sunlight through the oversized windows. The open-faced cabinets also give an illusion of large space; and of course, the generous use of bead-board on a ceiling, cabinet edges, and backsplash, all add to the warm personality and charm of the kitchen space.
Simple Paneled White Cabinets with Black Hardware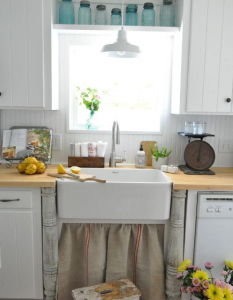 The simple paneled white cabinets reflect warm personality. These cabinets are designed with wide panels instead of in-laid bead-board, for creating the surface of the cabinets. The simple black inflections produce some level of contrast to the large posts, framing the exquisite porcelain sink. The outcome is a traditional farmhouse kitchen ambiance that looks unique and classy.
Classic Farmhouse Cabinets with Modern Twist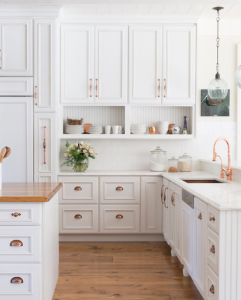 The beauty of these kitchen cabinets is in the striking copper accents. With copious classic cabinet space, the bead-board accents in the open-shelve sections add strong depth to the cabinet's design. The gleaming copper accents and passageway tile backsplash add a touch of a contemporary twist to the traditional design
Dark Cobalt Blue Matte Farmhouse Cabinets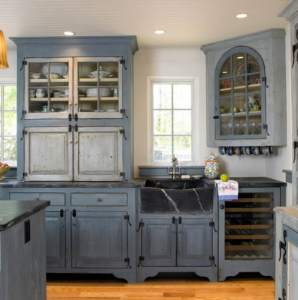 Farmhouse kitchen style with dark blue cabinets is stunning, especially without the glossy finish. With a combination of sink and black marble countertop, you can have a premium cottage style kitchen. The white bead-board ceiling and light colored paint brighten the room while the warm wooden floor creates warmth and friendly personality.
Raw Wood Kitchen Cabinets with Black Hardware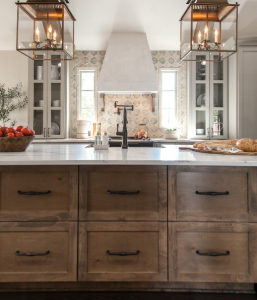 This stylish kitchen balances dark hardware and raw wood with warm light countertop and contemporary mosaic backsplash to create an elegant kitchen space. The modern and sleek open-faced upper cabinets perfectly fit into the balance, giving you the perfect space to display and store your glassware and China.
Classic White with Silver Hardware Cabinets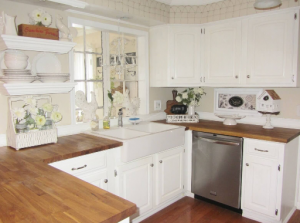 This simple and modest design is classic, functional and very easy to create. Clean silver hardware and simple white cabinets blend well together with light colored wall paint and wooden countertops. The inclusion of small but exquisite shelves close to the sink is not only stylish but a brilliant idea of having additional storage space in your small kitchen.
Conclusion
There is so much you can do with your kitchen space. When you are ready to redesign the space, a set of traditional kitchen cabinets will definitely bring a graceful look and feel to space. We have highlighted the various design options that you can explore for your traditional kitchen cabinets. It is important to get a professional hand to get the job done, but of course, with your creative input.
Related Blogs